August 24th 2021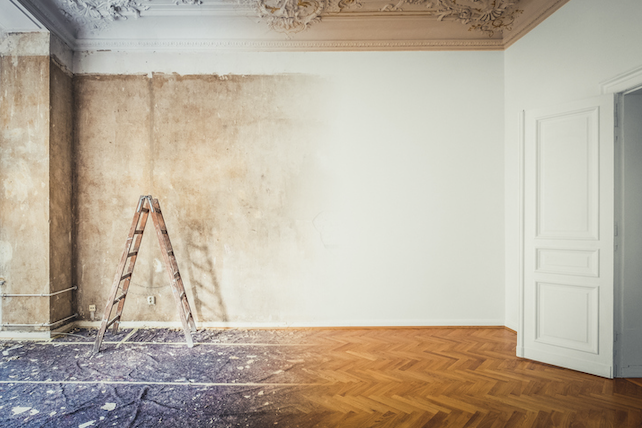 Thinking of moving? Renovating your home prior to selling could be a fantastic investment opportunity.
Of course, there's lots to consider. You might be wondering, what type of renovation will lead to the biggest return on investment? How much money should I put aside for it? 
To give you some clarity, we've answered some of your most frequently asked questions about home renovations…
What type of renovation will add the most value to my property? 
According to research published by Schofield's Insurance, the most lucrative home improvements include loft conversions, storey extensions and kitchen renovations – increasing the average property value by up to 16%, 15% and 10% respectively. 
On the other hand, decorating and landscaping supposedly increase house prices by just 3%. But if you have time on your hands and you think this is something you're able to carry out at a low cost, it's definitely worth considering – especially if you're looking to move as quickly as possible.. 
Should I fix structural issues or leave it to the next owner?
Structural issues such as subsidence (house sinking) can decrease a property's value by as much as 20%, so we definitely recommend sorting them out before putting your home on the market. 
Other problems that may be flagged during a survey include structural cracks, rotten joists, a leaking roof, missing roof tiles and insect infestations, so you should consider getting these fixed if you believe it will be financially beneficial to you. 
How long does a home renovation take?
Of course, there is no such thing as a standard home renovation project – it really does depend on what work you're carrying out, the availability of contractors and lots of other factors. 
Ultimately, you need to consider your own timeframes when deciding what work you want to carry out. If, for example, you have a baby on the way and know that you need to have sold your current property and moved into a new one within the next six months, you should think carefully about undertaking any lengthy renovations such as storey extensions. 
How much should I spend on home renovation?
There's no magic figure that'll help boost your home's resale value, as it really does vary for each property.
We'd suggest assessing the figures above – as mentioned, loft conversions, storey extensions and kitchen renovations are likely to add the most value to your property. So, for example, if you're hoping to sell your home for £266,000 instead of its typical market value of £230,000, we'd suggest spending no more than £25,000 on a loft conversion so that you see a good return on your investment. 
Whether or not you decide to renovate, Abode are here to help you sell your home
With over 40 years' experience selling homes in Liverpool, Abode can provide you with a market-leading package with no upfront costs, as well as a FREE house valuation to get you started. 
Fill in our easy contact form or contact us directly today.