May 26th 2021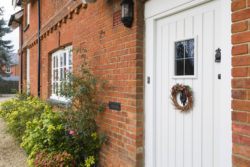 You might be wondering, what exactly is kerb appeal? 
Ultimately, kerb appeal is the desirability of your home's exterior. And if first impressions are anything to go by, it can really count for a lot when potential buyers come round to visit your property. 
Here, we share our top tips to ensure your home looks its best when it's placed on the market. 
Revitalise your front door
Your front door is the first entry point for visitors, and you want it to be as welcoming and inviting as possible. A shabby-looking door with peeling paint, stains and mould will instantly turn buyers off, but fortunately a lick of paint is all it takes to transform a worn frontage.
If you're not sure what colour to paint it, we recommend sticking with classic colours such as grey, white, navy or pastel-green. Only opt for something more vibrant and 'out there' if it reflects the interior of the property too. 
Make your windows sparkle
Cleaning your windows not only gives good impressions on the outside, but on the inside too! Sparkling clean windows will instantly let more light into your property, creating an overall brighter environment. 
Improve your outdoor lighting
If your house viewings often take place in the evenings, it's important to make sure your outdoor lighting is up to scratch so that potential buyers can view your property in its full glory. 
Outdoor lighting can also help thwart crime. As it acts as a deterrent for burglars, house viewers will instantly feel at ease when they see it.
Get rid of weeds
House-hunters will breathe a sigh of relief if they see a neat and tidy front garden after arriving at your property. As well as creating a positive impression of the inside of your home, a lack of weeds also indicates that the property's greenery is under control which is something that every potential buyer will value.
As well as removing weeds, we would recommend going one step further by adding colourful potted plants, hanging baskets and pebbled sections to really boost your home's kerb appeal.
Sell your home with Abode
As a top estate agent in Liverpool, Abode are here to help get your home on the market efficiently and effectively.
Our market-leading sales package includes a FREE valuation, innovative marketing of your property and support every step of the way. If you'd like to find out more, get in touch by filling in our easy online form or by contacting us directly today.