October 29th 2021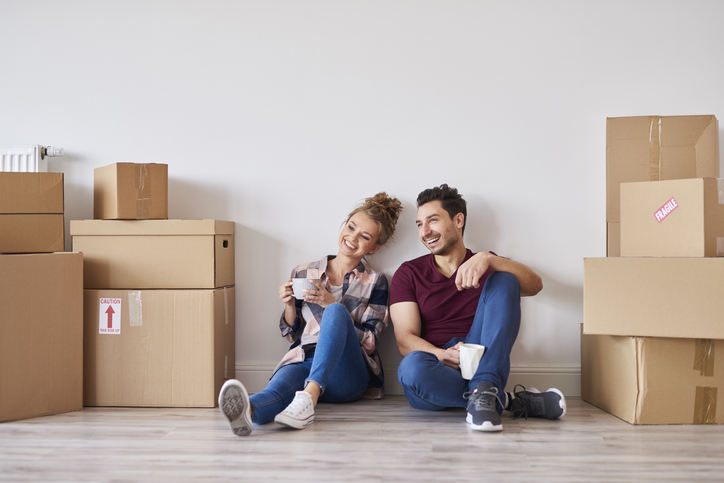 If you've just moved into a new property, congratulations!
Whether you're living in a rented property or have recently bought your first house, we've got just the trick to help make your new space feel that little bit more homely. 
1. Get smart with storage
Moving house can be a real eye-opener when it comes to realising just how much stuff you own. You might feel a bit overwhelmed at the prospect of finding a place for everything, but if you're smart with your storage you can easily keep your new home clutter-free. 
One thing we highly recommend is buying furniture that doubles up as storage space – some examples include coffee tables with hidden storage inside, ottoman benches for your living room or bedroom as well as floating shelves. 

2. Cosy up with layers and textures
Soft furnishings such as throws, blankets and cushions will instantly transform a bare room into a homely haven. We recommend using contrasting materials such as chunky knits, faux fur and mohair to create a textured and comfortable vibe. If you don't want to spend a fortune and have some time on your hands, consider knitting a throw or cushion cover yourself!

3. Bring the outdoor in
Did you know that houseplants have the ability to boost your mood and reduce stress levels? With that in mind, it's definitely worth stocking up on some natural foliage for your new home! As well as being natural mood boosters, they'll make your property feel extra cosy and give it more of a 'lived in' feel. 
If you're a houseplant newbie, we suggest starting off with easy-to-look-after plants such as cactuses, succulents, spider plants and peace lilies. 
4. Create atmosphere with lighting
Lighting really is everything, especially during the winter months. If you want to create an atmospheric and peaceful bliss in your home, make sure to use soft warm hues rather than bright white or blue-tinted lights. 
And rather than using the big light (the light that nobody really likes having turned on!), opt for lamps, tealights and fairy lights instead. 
5. Fill the space with your favourite scents
Bring a sense of familiarity into your new property by placing your favourite candles and diffusers in each room. As well as making you feel more at home yourself, they'll add a welcoming touch when visitors come round and help keep your house smelling fresh too!
Abode Estate Agents are here to help
We hope you find these tips helpful! If you're still looking for a new home, we can help you find it. As one of the leading estate agents in Liverpool, our breadth of knowledge and 40 years' experience puts us in the best position to match you with the perfect property – get in touch today.