October 02nd 2019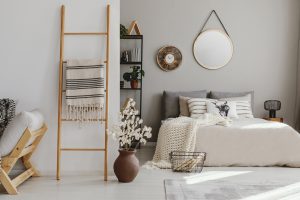 You might have heard of the Danish word 'hygge' (pronounced 'hue-gah'), but what does it actually mean? 
Regarded as a significant characteristic of Denmark's culture, it can loosely be translated as a mood and atmosphere of familiarity, cosiness and comfort. Although hygge applies to general wellbeing, it is usually present in Danish decor.
Since Denmark is consistently ranked as one of the happiest countries in the world, we're going to look at the key characteristics of hygge in terms of interior design. Hopefully this will make you feel happier and more wholesome, especially when spending time at home!
Lighting is Everything

Lighting is one of the most important aspects of a typical Danish home. Pendant lights can create a warm glow in any room, and look lovely when paired with table lamps and floor lamps! 
Candles are also a great way of achieving hygge. Danes are the biggest candle consumers in Europe, lighting around 13 pounds worth every year! Meik Wiking (author of ' The Little Book of Hygge') refers to candles as "instant hygge". In Danish, candles are called levende lys which translates to "living light" in English. Natural light instantly makes us feel better than electric light, which is what makes candles a cosy addition.
Simplicity

A significant aspect of Danish culture is simplicity. In Denmark, hygge is considered to be the antithesis of 'excess'. Elaborate displays of wealth and status are usually avoided, and 'less is more' is certainly something they live by. 
When it comes to their homes, Danes are known for having purely monochrome colour schemes, or at a push, subtle mixes of harmonious tonal shades. Clutter and unnecessary furniture is a big no-no, and clever storage solutions are often second-to-none in Danish households.
Come Together

Getting together with family and friends in a relaxed environment is a huge part of the Danes' day-to-day lives. It's also incredibly hygge! Make your home as welcoming as possible – even just ensuring that there's enough seating for everyone could make a big difference. Putting up some fresh flowers and investing in some cosy cushions are also simple ways of making your home more inviting!
Spa-style Bathroom

In Copenhagen (Denmark's capital) where space is tight, you will often find teeny tiny bathrooms that have had to be built in to existing properties. 
Despite this, the trend for spa-style bathrooms with saunas is on the rise. Paired with good lighting, clever storage and fluffy bathrobes, a relaxing bath in this kind of environment would be the ultimate hygge experience!
Looking for a New Home to Hygge? Let Abode Help
Hopefully this has given you an insight into the concept of hygge, and given you some ideas on how to incorporate it into your home! If you're looking for a new property, then make sure to check out our full list of properties that are available to buy or rent.