September 03rd 2019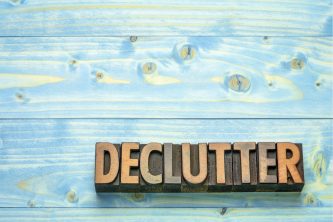 Decluttering is beneficial in more ways than one! If you're thinking of selling your property, getting rid of unnecessary belongings will instantly make your home appear more attractive to potential buyers. And if you're just about to move into a new property yourself, having a clear out will make your life so much easier!
With this in mind, we're going to take a look at some tried-and-tested ways to leave your home clutter-free.
1. Sort out one room at a time
Decluttering at a steady pace is key if you want it doing successfully. Start with one of the smallest rooms in your home, or a room that has the least amount of clutter. Doing it this way will prevent you from feeling overwhelmed, and make it a manageable task rather than a complete burn-out event.
2. Use the 'four-box' rule
When sorting through each room, lay out four large boxes. Each should be labelled as:
Keep

Recycle

Sell/Donate

Throw Away
Then, start sorting through your stuff! Having a 'sell/donate' box should hopefully encourage you to part with certain items, especially if you don't really use them anymore and know they'll have a 'new life' with new owners.
3. Put it into perspective
According to the Office for National Statistics, all possessions owned by UK households value nearly £1 TRILLION (more than the UK government spent in 2018). In each property, the contents are worth around £35,000, which is well over the average UK salary of £27,000. Do you really need all this stuff?
4. Get into good habits
Set yourself some ground rules – if you own something that you haven't used in over a year, then get rid of it. And if you buy something new, make sure to recycle, throw away, sell or donate something else to balance it out. You should also aim to make decluttering part of your daily routine, rather than a dreaded chore that you do once in a blue moon!
Abode can help you with the next step
We hope that these decluttering tips have given you some food for thought, and helped you realise just how easy it can be!
If you're looking to declutter because you want to sell your property, Abode Estate Agents in Liverpool are on hand to help. Check out our easy selling guide, and find out more about our market-leading package with no upfront costs.