July 25th 2019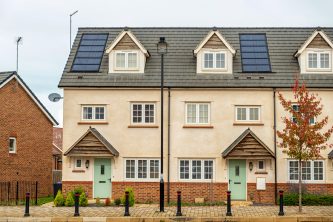 In the first of a two-part article about new and existing properties, we are assessing the pros and cons of new build homes.
Purchasing a property is one of the biggest decisions you'll ever make, so we'll help you decide whether a new build is a good option for you.
Pros:
Government incentives
The Government's Help To Buy Equity Loan allows owners to lend up to 20% of the cost of a brand new property. If you're looking to buy an existing home, then you wouldn't be eligible for this scheme. This is certainly something worth checking out.
Energy efficiency
A benefit of newly-built homes is that they have to comply with tighter building regulations. Because of this, they are generally more energy efficient than existing properties. Data suggests that over 80% of new homes have either A or B ratings, which is great to hear. As well as saving money on energy bills, you'll also be helping the environment too!
Modern living 
If you're looking for something contemporary, then a new build is guaranteed to tickle your fancy. And if the property that you're planning on buying is in the early stages of its development, you might even get a say in the choice of fixtures and fittings!
Cons:
Less space
Because of increasing population levels and a higher demand for housing in the UK, some newly-built homes are smaller than older properties. This is not necessarily a bad thing, and not all new builds are small, but it's definitely something to consider when searching for your new home. 
Possible delays
If you are buying 'off-plan' (before the completion of your new home), then prepare yourself for possible delays! They're not particularly common, but not unusual either. For those who haven't got alternative accommodation to stay in during the delayed period, storage space and emergency rental costs could cause a bit of hassle. 
Teething issues
A new property will generally have a lot less issues than an existing home, but it might have a few small, annoying snags such as loose tiles or doors getting stuck on new carpets. If you've just signed your contract with your developer (or are just about to), it might be worth organising a snagging survey to ensure that everything is in working order. 

Let Abode Help You
We hope that we've helped to shed some light on new build properties, and helped you move further in your pursuit for a new home. 
If you think that a new build home in Liverpool is for you, then check out the Stoneleigh Park Development in Crosby. Situated in a semi-rural gated community, your dream home could be waiting for you. Abode are here to help you every step of the way.