April 30th 2019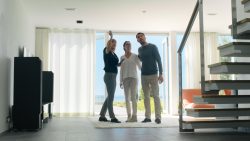 Your home is for sale… you might be experiencing feelings of excitement, anticipation and probably a few nerves! To help get your home ready in time for your first viewing, we've created a checklist to get it in tip-top condition.
1. Make a great first impression
Before the prospective buyer has even set foot in your property, you want them to walk in feeling positive and optimistic. This all begins with the front of your home, as this is the first thing that the viewers are going to see. Simple things such as making sure the bins aren't overflowing, mowing the lawn and giving your front door a lick of paint could make all the difference! A lot of viewers will drive past your house prior to the viewing, so it's definitely worth sorting this out sooner rather than later.
2. Tidy up the bathroom
Giving your living room, kitchen and bedrooms a tidy should be quick and simple, but when it comes to your bathroom, a deeper cleanse is usually necessary. A simple but effective tip is hanging up fresh towels that are clean and dry. You should also put away (or at least dry off) any bath toys that might be lying around, and the same goes for toiletries, medication and cloths/sponges! Furthermore, mould is an instant no-no for potential buyers, so removing it and resealing your bath or shower is always a good idea.
3. Depersonalise
It seems to be the general consensus that viewers prefer homes that look more like showrooms, as opposed to 'lived-in' homes. Why? When the house is depersonalised, the prospective buyer has a chance to imagine themselves living there, with their own furniture and decor. Whilst no one would expect you to completely strip down your property, simple touches such as removing family photos from the wall, removing magnets from the fridge and removing shoes from your porch or hallway could be all it takes.
4. Fix any necessary minor repairs
If there are any door frames, walls or window frames that need painting, now's the time to do it! Likewise, sorting out creaky floorboards, replacing light bulbs or loosening up stuck windows are all things that can be done fairly easily. It might seem like a waste of time, but fixing these issues will instantly make your property more attractive, and put the viewer's mind at ease.
Abode are here to help
We hope that this checklist has given you some food for thought for when you start preparing your home for a viewing! Selling your home can be stressful, but we're here to make the process as easy as possible for you. If your house isn't on the market just yet, take a look at our selling guide and find out how we can help.