December 11th 2018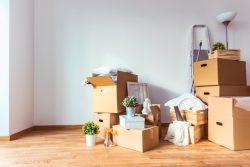 Moving home is a huge decision that is rarely taken lightly. But one of the main reasons that often pushes people to go through with 'the big move' is their desire to upsize.
Whether you're considering upgrading from an apartment, to a house with a garden, a two-bed to a three-bed or any other kind of upsize, we have some factors for you to think about when making your decision.
Are you thinking of expanding your family?
One of the most obvious reasons for moving to a larger property is the addition of little ones in the family. Whether you're an expectant parent or considering having children in the future, it's always good to plan ahead and think about the space you're going to need. It is also important to think about the long term – will two bedrooms be enough space for your family in five years time?
Would you love to have a guest room?
You may have moved away from your hometown, have friends and family in different places or just love having people stay over. If you're this person, then making sure you have enough space for a guest bedroom is something you should definitely factor in. When it comes to the Christmas season and you don't fancy travelling to see your relatives, having a guest bedroom is the perfect excuse for them to come to you instead!
Additional space for work or exercise?
Alternatively, you may be thinking more about your situation now rather than the future. Are you in need of a separate space to get your work done? Or would you like an extra room to turn into a gym? If your answer is yes, you should definitely consider upsizing. In the long term, you could save money on renting an office space, or save on a gym membership. And if things change in the future, then the option to convert the room into something else is always there.
Are you ready for 'the big move'? Then let Abode help!
Here at Abode, we would love to help you sell your current property and assist you with finding your dream home.
Check out our selling page, pop into one of our offices or contact us directly here.