December 08th 2016
Christmas is just around the corner and we're feeling very festive here at Abode! With just a few weeks to go until the big day, the team at Abode want to wish everybody that we've had the pleasure to deal with this year, a very Merry Christmas!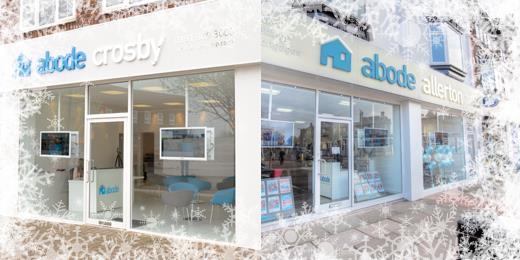 Our opening hours will vary slightly over the festive break- the following times apply to both our Crosby and Allerton Road branches:
Saturday 24th – 10-12pm
Sunday 25th – closed
Monday 26th – closed
Tuesday 27th – closed
Wednesday 28th – 10-4pm
Thursday 29th – 10-4pm
Friday 30th – 10-4pm
Saturday 31st – 10-12pm
Sunday 1st January – closed
Monday 2nd January – closed
Tuesday 3rd January – 12-4pm
We will return to our regular opening hours from Monday 4th January (9am-6pm).
We hope you enjoy the festive period and have a lovely break. And if this will be the first Christmas spent in a lovely new home, then a big congratulations to you too!
-The Abode Team.