September 26th 2013
When you're getting ready to move home, there's 101 things on your mind. Along with making sure everything is packed and that the move goes smoothly, it is important to consider the security aspects of your big relocate. With 35% of buyers saying a secure environment was the most important factor when moving home, we've put together our top security tips for making sure your new home is secure and you feel as safe as possible.
As soon as you move into your new place, replace the existing locks and get a full set of keys. You never know who the previous owners may have given a spare key to, so it's best to keep your own set which you can keep track of.
Double check all doors and windows have working locks (which you have the keys for) and that they fit well within their frames. Not only is this important for safety but will also be important once the wintery winds start to pick up.
If there's an alarm fitted, get the existing codes and manuals off the owners and change your code. It is a good idea to keep this regularly updated to keep things as safe as they could possible be.
Some properties are already fitted with CCTV and whilst this may sound extreme, if you new home is already equipped, it's a good idea to check everything is still working well.
Additional door chains, spy holes and sensor lights all increase the security of your home so it may be a good idea to review additional measures if you want extra reassurance.
When you're beginning to transfer all your furniture and belongings into your new home, make sure you don't leave items in the front garden or on the path for all to see. Your lovely new coffee table might just take the fancy of an opportunist burglar too!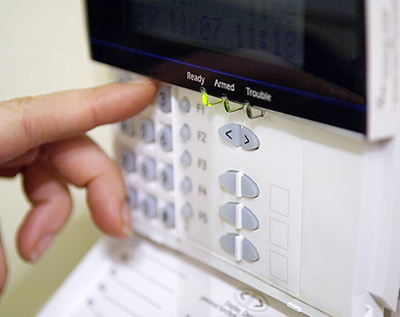 Once you're in your new abode, try to get curtains hung as soon as possible and don't leave boxes in full view of passersby.
Introduce yourself to your neighbours. As well as getting to know new people within your community, it's always nice to have someone next door looking out for you and your house.
Leave some lights on in the first few weeks whilst you are out, it will create the impression that your house is lived in.
Don't leave any tools or equipment out in the garden if possible. Keep ladders and tools in a shed, locked with a secure padlock.
Try not to get in the habit of leaving spare keys around outside your property. Burglars will check under plant pots and door mats incase you've slipped up.
Always check your new home insurance to see what it covers. If anything goes wrong, you'll know where you stand.
If you have any additional questions, or want to speak to one of our friendly estate agents, contact us on 0151 909 3003.
-The Abode team.